Hull housing redevelopment: Concerns over delays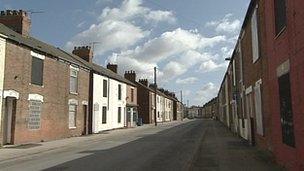 Delays over plans to redevelop homes in west Hull are unacceptable, it has been claimed.
Hull City Council claims the government has failed to provide the £8m grant it promised in April 2011.
Local councillor John Black accused the government of acting in "bad faith" and of "unacceptable procrastination".
The Department for Business, Innovation and Skills (BIS) said the bid was still going through the due diligence process.
The proposals for the Newington and St Andrews areas of west Hull would see 224 pre World War I houses demolished and 1,475 new and refurbished eco-efficient homes built.
The £135m project will be be built by developer Keepmoat, with grants of £17m coming from central and local government.
Donna Phelan, who lives on Clyde Street, said many residents were waiting for the money to demolish their homes so they could move into new properties.
Ms Phelan said that many of the houses in the area were derelict and were attracting vandals and arsonists.
"The area is just poverty stricken now," she said.
"It's absolutely horrendous. For the last three years I've been looking at boarded-up windows."
Mr Black said: "I share their concern and absolute utter and total frustration with the way the government is treating the residents of the Newington St Andrews area.
"The announcement of this grant was made way back, a year ago last March, and I don't think anybody could have expected that the government would take so long before they started the scheme off."
A BIS spokesman said: "Keepmoat were made a conditional offer of £8m in round one of the Regional Growth Fund.
"The bid is currently being reviewed as part of the due diligence process by both BIS and Department for Communities and Local Government officials to ensure that it is viable and provides the best possible value."
Related Internet Links
The BBC is not responsible for the content of external sites.