Humber Bridge crossings increase after tolls lowered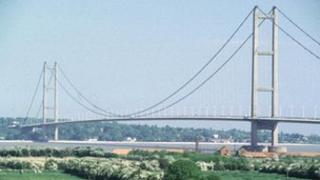 Traffic crossing the Humber Bridge has increased by more than 22,000 vehicles after toll charges were lowered last month, figures show.
Data from the Humber Bridge Board showed there were 486,654 crossings in April compared with 464,404 in the same month last year.
Toll charges were reduced from £3 to £1.50 for a single journey on 1 April.
The Hull and Humber Chamber of Commerce said it was "too early to tell its impact on the economy and tourism".
Dr Ian Kelly, chief executive of the Hull and Humber Chamber of Commerce, said there were "visible signs" that the toll charges were starting to make a difference.
Neil Porteus, finance director at The Deep Aquarium, said it had seen "30% more visitors from the Lincolnshire area" in April compared to last year.
"We didn't think the toll charge would be a limiting factor but clearly it has been. So we're really pleased."
North Lincolnshire Council said the number of visitors from the north bank to the Water's Edge nature reserve had doubled during its annual Easter craft fair event.
It recorded 1,500 people visiting the attraction during the three-day period compared to 750 last year.