Rare ducks spotted on River Hull near Driffield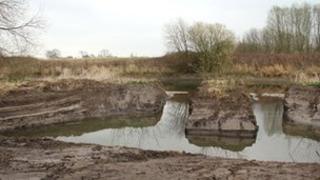 Rare ducks and avocets have been spotted breeding at a wildlife reserve on the River Hull in East Yorkshire for the first time in decades.
It follows conservation work at Tophill Low Nature Reserve, near Driffield, including cutting down trees and repairing embankments.
The work is to reduce the risk of flooding and create new habitats.
The reserve's warden said pintail and garganey ducks were breeding on the site for the first time in 20 years.
Richard Hampshire the warden at the nature reserve, which is a Site of Special Scientific Interest, said: "We have already seen a marked improvement in species using the reserve."
The work had also helped the first breeding attempt by avocets on the reserve.
Increasing capacity
The 300-acre site's open water includes the water treatment plant and reservoirs supplying most of the water for the city of Hull said Mr Hampshire.
He hoped birds like the bittern, marsh harrier, sedge and reed warbler, many insects and numbers of coarse fish will benefit from the work.
A new habitat is also being created for otters on the river.
Nick Appleyard, of the Environment Agency, said the river washing around the trees had been causing erosion to the bank and clearing fallen tree trunks from the water had increased the river's capacity.
Work to repair damaged sections of the riverbank using material dug out of the river will be finished within a week.
The resulting shallows provide new habitat for young and spawning fish and shallow water for wading birds.
The work is a partnership between Yorkshire Water's and the Environment Agency.