£10m fund to reprieve Tata Steel job cuts in Scunthorpe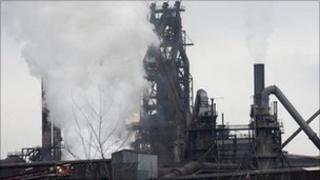 A £10m fund is being made available to support businesses in North Lincolnshire following job losses at a major steel company.
The government money will help create at least 500 new jobs and boost economic growth and regeneration, North Lincolnshire Council said.
Last year Tata Steel announced it would shed 1,200 jobs at its plant in Scunthorpe.
Unions said the job losses would have a major impact on local communities.
The government fund would "encourage the creation of new businesses and help existing businesses to expand, with the result of creating jobs", the council said.
'Boosting growth'
Councillor Liz Redfern, leader of North Lincolnshire Council, said: "At a time when many people face redundancy, not just at Tata, but other companies too, the Regional Growth Fund will help kick-start the local economy and get people back into work."
Business Secretary Vince Cable said: "I hope companies across the area take advantage of this opportunity to play their part in boosting growth and jobs in their local communities."
The money was secured through a taskforce, which was set up by the government last May to secure opportunities for the region and minimise the impact of the job losses.
Earlier this year, Tata Steel won a multi-million pound contract to process and distribute 25,000 tonnes of steel plate from its Scunthorpe factory to a wind turbine manufacturer.
Last October, the steel giant announced a £1.5m investment plan to help local businesses in Scunthorpe.