Humber's Spider T joins Diamond Jubilee Pageant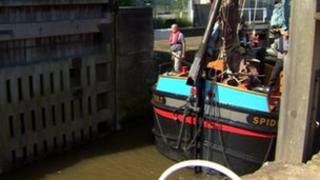 A historic Humber boat has set off for London to represent the region in the Queen's Diamond Jubilee Pageant.
The Spider T is moored at Keadby Lock near Scunthorpe and was built in 1926, the same year as the Queen was born.
The vessel, built to transport cargo, will be among thousands gathered on the Thames on 3 June.
Mal Nicholson bought and restored the Spider T after she fell derelict. He said taking part in the flotilla would reward his crew's hard work.
"I think everything that all of us have done so far has really sort of culminated in this moment," he said.
"The Olympics, yes we are hosting them and it's marvellous, but it happens every four years. This will take probably another three lifetimes before it ever gets fulfilled again."
The 62ft (19m) long Spider T was built at Warren's shipyard in New Holland and is the Humber's last-surviving super sloop, a sailboat with one mast and two sails.
In use until 1972, the boat was later used for a community project in Rotherham and then fell into disrepair.
Mr Nicholson bought the vessel in 1994 and restored it back to its original condition.
The Spider T will sail along the River Trent and down the Humber to Grimsby, before making the five-day journey to the capital.