Waste on Goole docks blamed for fly infestation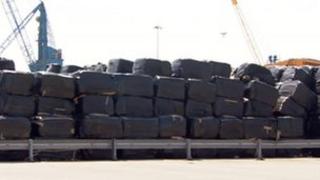 People living near an East Yorkshire port say their homes have been infested with flies after thousands of tonnes of household waste were left on the docks.
The waste bales, brought to Goole docks by Leeds Paper Recycling, were left there without proper authorisation, the Environment Agency (EA) said.
However, the firm had said it was working to secure permission to ship the waste, the Environment Agency said.
Leeds Paper Recycling was unavailable for comment.
'Vermin threat'
Pub landlord Paul Newham said business had suffered as a result of the fly infestation.
"People are coming in for the food and waving their arms about. It's not very nice really," said Mr Newham.
"We've lost 10% of our taking yesterday from people coming in for food."
Goole councillor Keith Moore, who is also a member of the Hull and Goole Port Health Authority, said he was "appalled" by the situation.
"We've already had fly infestations. There is the threat of other vermin such as rats," he said.
"We're in the centre of the town, that's the last thing our hotels and other retail sector needs at this moment in time."
Ian Cowie, Environmental Crime Team Leader for the Environment Agency in Yorkshire said Leeds Paper Recycling had said it had rewrapped the waste bales, which are thought to come from West Yorkshire, to prevent odour pollution.
"Our officers will be inspecting the site again to see if this has been done, and investigating the problem further to see if further action is needed," said Mr Cowie.
"We have received very few formal complaints regarding this waste, however we will take formal enforcement action including possible prosecution if this waste is not dealt with to our satisfaction."