East Yorkshire stroke care 'has worrying gaps'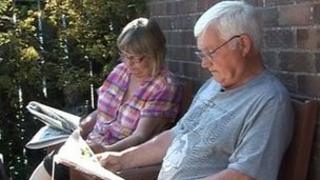 There are "very worrying gaps" in the care being provided for stroke patients in East Yorkshire, a new report states.
The Stroke Care and Rehabilitation report by a panel of East Yorkshire councillors found a lack of rehabilitation therapies for patients.
The panel said it was a "serious impediment to the stroke survivor's long-term well-being" and has called for improvements.
NHS East Riding said it had recently invested in additional therapists.
In the report, a panel of councillors on the East Riding of Yorkshire Council health sub-committee said there was a lack of therapies being offered to patients including speech and language, occupational and physiotherapy, as well as psychological support.
'Better recovery'
The panel also said it was concerned by the loss of in-patient facilities at Alfred Bean Hospital in Driffield and Hornsea Hospital.
Norman Curtis, from Leconfield, suffered a stroke last September and said he was still waiting for therapy.
"My sight does affect my mobility and I know I can't walk everywhere on me own," he said.
"I'm not quite sure whether I've missed the boat as far as that [therapy] goes or whether it could be of any help to me now. It's not clear."
Patrick Olszowski, from the Stroke Association, said: "The key is really to get the basics right for more people, more of the time. So that more stroke survivors can make a better recovery."
The Hull and East Yorkshire Hospitals NHS Trust said it was meeting government targets and was recruiting two extra staff to help stroke patients once they had returned home from hospital.