Recycling firm apologises for waste left on Goole docks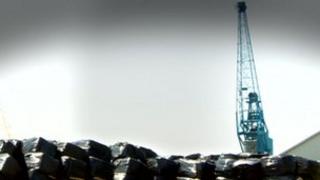 A company has apologised to people in Goole after tonnes of waste was left on the town's docks.
Residents claimed the waste bales caused an infestation of flies in their homes and businesses.
The refuse, brought to Goole docks by Leeds Paper Recycling, was left there without proper authorisation, the Environment Agency said.
The recycling firm said it was working with the authorities "to speedily resolve the matter".
Goole councillor Keith Moore, who is also a member of the Hull and Goole Port Health Authority, said he was appalled by the situation.
'Isolated incident'
"We've already had fly infestations. There is the threat of other vermin such as rats," he said.
"We're in the centre of the town, that's the last thing our hotels and other retail sector needs at this moment in time."
In a statement Leeds Paper Recycling said: "This is an isolated incident in our 10-year history and the first time we have transported these goods by ship as opposed to trucking them.
"We are working extremely hard with the contractor on site who we have employed to place the items in their appropriate station by the dockside as opposed to where they have ended up.
"Irrespective, we apologise. I would like to reassure those concerned about the nature of the waste products.
"They are non-recyclable plastics, small paper, fibre and textiles and as standard we are working with the Environment Agency and other port authorities to speedily resolve the matter."