Jubilee events continue in East Yorkshire despite rain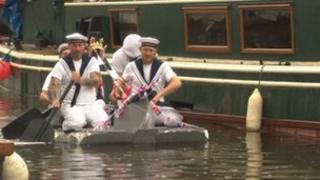 A number of Diamond Jubilee celebrations have taken place in East Yorkshire, despite heavy rain.
Beverley held its own version of the royal boat pageant, with 50 vessels sailing on the town's beck.
In Hull, more than 3,000 runners took part in a 10km (six mile) charity fun run in the city centre in aid of the Jane Tomlinson Appeal.
The weather caused the cancellation of some Diamond Jubilee events in and around Grimsby.
Organisers of the Asian and Cultural Mela due to take place in People's Park in Grimsby called the event off.
A Diamond Jubilee fun day organised by the Waltham Windmill Preservation Society was also cancelled.
The Beverley boat pageant saw ships, ranging from home made rafts to historic barges, sailing on the beck.
The event's organiser Hamish Stewart said: "I don't think there has been this many boats on the beck since the 1920s."
In Stamford Bridge, East Yorkshire, dozens of people, some in fancy dress, paraded through the town led by a military band.
On Monday the Humber Estuary will see a flotilla of 60 boats setting sail from Barton-upon-Humber.
The fleet will include the restored racing yacht the Ierne, which won gold at the 1920 Antwerp Olympics.
See all the latest Diamond Jubilee news and features at bbc.co.uk/diamondjubilee