Tree roots and fat in sewers 'caused Cottingham floods'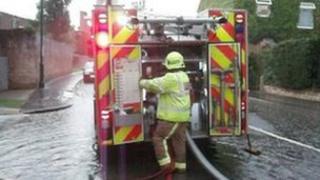 Blocked sewers caused by a build up of fat and tree roots were to blame for last year's flash floods in Cottingham, East Yorkshire, a report has said.
The King Street and George Street areas were flooded following heavy rainfall last May and August.
"Undersized" sewers were also a contributing factor, a report by East Riding of Yorkshire Council said.
Yorkshire Water said "large quantities" of fat and tree roots had been removed following the flooding.
The company said it had been carrying out regular inspections of its sewers in the affected areas every three months since the blockages had been removed.
It was also conducting a "computerised modelling" survey to examine the performance of the sewers.
Matt Thompson, from Yorkshire Water, said the computer modelling would tell the company whether sewers were undersized or not.
He said: "It will create an electronic picture of how the sewers are operating and we expect the results at the end of this month."
The report stated that further "remedial works" needed to be carried out, such as lining the sewers to prevent further congestion from tree roots.
A spokesman for East Riding of Yorkshire Council said it understood that the water company had addressed the problem of fat building up in the sewers by running a public campaign.