Apology over Grimsby crematorium funeral interruptions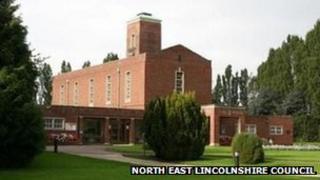 A council has apologised for delays and disruptions to funeral services caused by building works at a Grimsby crematorium.
Some families have complained that funerals have been delayed by three weeks.
One family said they had to endure the sound of power tools during a service.
North East Lincolnshire Council apologised for causing "any inconvenience" and said that interruptions "would not happen again".
It said people were "reminded that there may be some disruption to services for approximately six months while new abatement equipment was installed to reduce mercury emissions".
The work, which started in April, also included replacing cremators and a refurbishment of the waiting room and toilets, the council said.
'Very distracting'
In a letter to the crematorium's manager seen by the BBC, one mourner, who wishes to remain anonymous, said: "During the service we were subjected to the loud noise of an electric saw being used during the prayer time.
"It was very distracting and what should have been a comforting time was spoilt."
In a different letter, another anonymous mourner said after a three-week delay of a funeral, family members had to wait in a corridor with no seating in what should have been a waiting area, prior to the start of the service.
Stephen Near, an undertaker from Grimsby, said: "The area where people would wait before going into the crematorium chapel has been dramatically reduced down to about a three-foot wide corridor because of the work.
"Consequently, if there's any problems like bad weather or perhaps a delay on the funeral or anything like that, people are squeezed into this area and really it's not very good at all.
"If there isn't provisions made for people to wait it just adds to the distress."
North East Lincolnshire Council said: "The council would like to apologise for any inconvenience these works may cause to families and mourners, however the crematorium will remain open during this time and requirements are expected to be met."
It expects work to be completed by October.