Cleethorpe attractions offer tolls refund to boost business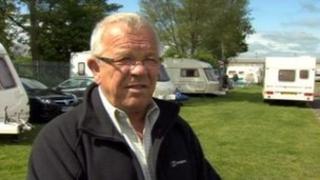 Tourist attractions in a North East Lincolnshire town are offering refunds on Humber Bridge toll tickets in an effort to boost business.
Businesses in Cleethorpes said the tolls had acted as a barrier to people coming from north of the Humber.
The measures coincide with figures showing bridge journeys have increased since the tolls were halved in April.
Harry Dolby, from Showground Caravan Park, said: "It will definitely have an impact and will be a good thing."
Toll charges were reduced from £3 to £1.50 for a single journey on 1 April.
Figures from the Humber Bridge Board show that more than 124,000 vehicles crossed the bridge in the last week of April - an increase of 16% on the same period last year.
The Deep Aquarium in Hull said it had also seen a significant increase in visitors from south of the Humber since the reductions.
Adam Cowood, from Cleethorpes Coast Light Railway, said: "We haven't traditionally had visitors north of the Humber purely because there's other resorts like Scarborough closer to them and the bridge tolls have acted as a barrier before because of the costs."