Goole MP Andrew Percy demands action over dock waste row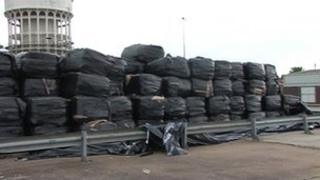 An East Yorkshire MP has called for action over the dumping of tonnes of waste at a port, which has been blamed for a fly infestation in nearby homes.
The bales, owned by Leeds Paper Recycling (LPR), were left at Goole docks without proper authorisation, the Environment Agency (EA) said.
Andrew Percy, MP for Goole, said the waste posed "an environmental risk".
Contractors had wrongly placed the waste and were due to discuss the issue with LPR on Friday, the firm said.
'Very concerning'
Residents said the waste, which was brought to the docks about two weeks ago, had already attracted flies and they feared vermin might follow.
Mr Percy said the waste was "very concerning" for local residents.
"We are assured that we won't have a repeat of this. I'll be pushing these assurances further," said Mr Percy.
"It's arrived at the docks incorrectly packaged and we now have to deal with it, sadly."
Some of the bales, which contain non-recyclable plastics, small paper, fibre and textiles, were set alight in the early hours of Sunday, but no major damage was caused, said Mr Percy.
Councillor Brent Huntington, from Goole Town Council, said despite LPR being instructed by the EA to cover the bales, some of them were still broken and leaking.
The agency said it had offered to provide LPR with a list of alternative sites to which the waste could be moved.
However, the EA warned that if the waste was not removed by 11 July it would begin legal proceedings, though LPR would have the right to appeal.