Hull's Orchard Park flats demolition plans could go ahead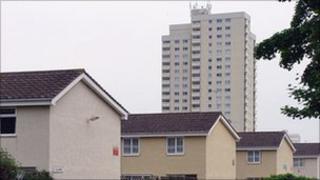 Plans to demolish four blocks of high-rise council flats on a Hull estate could be approved by city councillors.
Hull City Council approved plans to demolish five of its seven multi-storey blocks on the Orchard Park estate and build hundreds of new homes in 2010.
After a cut in government money to fund the new homes, a review was carried out last year and three of the seven blocks were later approved for demolition.
A new report is now proposing the demolition of all the remaining flats.
The Gorthorpe, Kinthorpe, Laxthorpe and Highcourt high-rise flats are planned for demolition by 2015, along with the Ashthorpe, Milldane and Homethorpe tower blocks, which had been agreed last December.
More than 550 flats could be demolished in total.
'Cold, damp conditions'
The flats were built in the 1960s. Since then there have been "minimal capital investment", with three of the blocks receiving improvements such as double glazing and installation of storage heaters, the council's report stated.
It also stated that a "significant number" of residents were in favour of the demolition because of the "cold, damp" conditions and the "costs to heat and maintain the flats and anti-social behaviour in the blocks".
However, Marjorie Griffin, 86, one of the original tenants in the Holmethorpe block, said they were "terrific" and just needed to be "kept up-to-date".
In its report, the council stated refurbishment was "not an option" because the cost was "prohibitive" and would lead to unaffordable rents for tenants.
The council said more than 120 residents had been "successfully relocated from the Homethorpe, Milldane and Ashthorpe blocks" to other housing.
The demolition plans will be put forward to councillors next week.