Paul Cooke rugby league star runs seventh marathon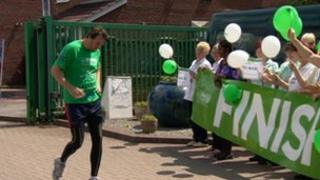 Rugby league player Paul Cooke has finished his seventh marathon in seven days on the anniversary of his mother's death.
Mr Cooke, 31, has run more than 182 miles in aid of the Dove House Hospice and hopes to raise in excess of £5,000.
He was running in memory of Catherine Cooke who was cared for in the Hull hospice before her death from cancer.
Becky Baynes, from the hospice, said: "We couldn't keep running without the help of people like Paul."
Mr Cooke said: "It's been massively tough.
"It's been an emotional week but it's given the family something positive to focus on."
When asked what his mother would have thought of his efforts, he said: "She'd be laughing I think, but she'd be proud."
Mr Cooke previously said he would be indebted to the hospice "for the rest of his days" after he saw the care given to his mother before she died last June.
Boost the total
Despite knee ligament damage, he finished the week by running a marathon, although the injury meant he had to run 26 miles on a treadmill for two days.
The former Hull FC and Hull KR star is now playing for Doncaster and will host a fundraising evening with an auction of sporting memorabilia to boost the eventual total.
The running costs of the hospice are £5.6m annually, according to Ms Baynes, and the majority of that is paid for by donations.
She said the hospice treats about 300 in-patients and 600 out-patients in a year.
The hospice has a 20-bed care unit and support workers who help terminally ill patients in their own homes.