Hull's Western Library reopens after facelift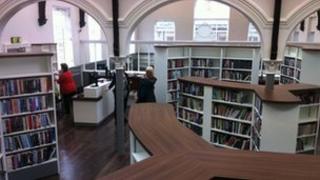 The first public library to be built in Hull has reopened after a £800,000 revamp.
In 1895 the Western Library, on the Boulevard, became the first in the city to be built using public funds.
After a seven-month refit, the library has been modernised to include solar panel roofing, new shelving and extra meeting rooms, Hull City Council said.
Hull Councillor Terry Geraghty said he hoped the "newly extended facility" would encourage new visitors.
The library's Victorian features including the original counter and room divider had been retained and new IT facilities had been installed, the council said.
Mr Geraghty said: "It's great to see Hull's oldest library reopen to the public.
"I hope this newly extended facility will be used by the community and local organisations, as well as encourage those who haven't used it before to come and have a look round."
Most of the funding for the work was provided by the James Reckitt Library Trust and the Townscape Heritage Initiative.