Hornsea funeral for Pte Gregg Stone killed in Afghanistan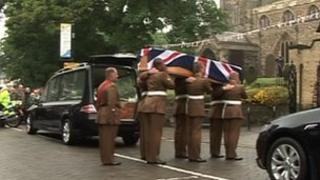 Hundreds of people lined the streets of Hornsea for the funeral of a soldier from East Yorkshire.
Pte Gregg Stone, 20, from Atwick near Hornsea, was shot during an operation to rescue a policeman kidnapped by insurgents in Helmand, Afghanistan.
Pte Stone, from the 3rd Battalion, The Yorkshire Regiment, had been deployed to Afghanistan three weeks before his death on 3 June.
His funeral took place at St Nicholas' Church, Hornsea.
Pte Stone's widow, Samantha, who is expecting the couple's first child, described him as a "brilliant husband" who loved his family.
The Rev James Grainger-Smith, the Rural Dean of North Holderness, said Pte Stone was well-known and well-thought of throughout the local community.