Hull Prison remains overcrowded, report finds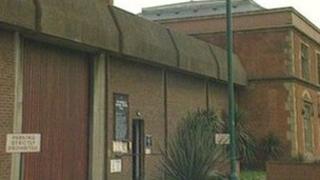 Overcrowding of inmates at HMP Hull is still a problem, inspectors have found.
A report found nearly 1,000 inmates were being held at the 793-capacity Victorian prison, which was about the same figure during its last inspection in 2008.
The cells, a large proportion designed for one person, were "extremely small" and were being shared, it said.
But inspectors said the prison had made "good progress in keeping prisoners safe" and reducing re-offending rates.
The HM Inspectorate of Prisons report showed toilets in cells were not properly screened and that prisoners were having meals in their cells.
It also noted a lack of support for foreign nationals and that fellow inmates were routinely being used as interpreters, even when dealing with confidential and sensitive issues.
'Challenging environment'
Chief Inspector of Prisons Nick Hardwick said: "Good work had been done to reassure prisoners about their safety and to reduce the risk they re-offend on release.
"Nevertheless, the physical state of the prison, overcrowding and some aspects of staff-prisoner relationships threaten to undermine the progress made in other areas.
"We hope that when we return, much greater progress will also have been made in these areas."
Michael Spurr, chief executive officer of the National Offender Management Service (NOMS), said: "Solid progress is being made at Hull especially around safety, violence reduction, education and resettlement.
"I am confident that the Governor and staff will continue to build on these improvements and address the issues raised in the report.
"The prison presents a challenging physical environment, but staff work extremely hard to provide as extensive a regime as possible."