Flooding prompts home evacuations in Immingham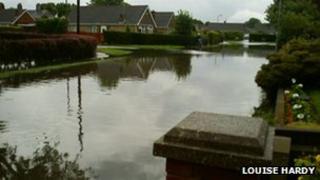 People in part of North East Lincolnshire have spent the night away from their homes after heavy rain led to properties being flooded.
Shoreline Housing, which owns former council homes in Immingham, said 20 of its properties were affected.
Four homes were uninhabitable and residents were provided with alternative accommodation.
Canon Peter Hall, Allerton and Eastfield primary schools were also affected and have been closed.
Humberside Fire and Rescue Service were called out to deal with flooding in Hadleigh Road, Langley Walk and Manby Road.
Shoreline Housing said it had given out sandbags to protect homes including the sheltered housing scheme in Pelham Road.
'Community spirit'
Chief executive Tony Bramley said: "Our first priority is the welfare of our tenants, who are understandably upset by this incident.
"Our officers have been in immediate contact with those who have been affected to ensure their safety and provide assistance.
"A big thank you to local residents who have shown true community spirit, helping each other.
"We will continue to support residents and our officers will assess the damage and provide advice and support in regards to health and safety, cleaning and repair of their homes and insurance."
North East Lincolnshire Council said rain was expected to continue in the area and it was monitoring the situation carefully.
A spokesman said: "Affected residents are advised to report any issues or concerns to the council, as well as taking precautionary measures such as removing valuable items to a higher level."
Immingham Resource Centre and Immingham Library also closed as a result of flooding and will remain closed until further notice, the council said.