Tophill Low reserve's first avocet breeding success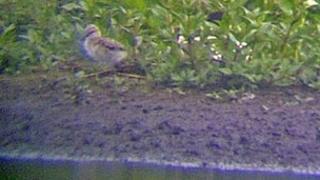 An East Yorkshire nature reserve has seen a pair of avocets successfully breed for the first time.
Despite flooding and a fox attack at Tophill Low nature reserve, near Driffield, the pair bred four chicks.
The avocet was once close to extinction and is used by the Royal Society for Protection of Birds as its symbol.
Richard Hampshire, the site's warden, said: Their ability to swim and run from the start has proved vital to their survival."
Mr Hampshire added: "We expect these chicks to hang around for the next few weeks, before accompanying their parents on the migratory journey back to Africa."
The reserve hopes next year the birds will all return to the site to breed.
The parents incubated the eggs on the reserve while fending off attacks from predators such as gulls and marsh harriers.
The new chicks have already escaped carrion crow attacks by hiding in dense undergrowth.
The breeding success at Tophill Low is all the more special because avocets across the UK have struggled recently as a result of flooding and high rainfall.
'Eggs hit hard'
Mr Hampshire said: "Many wetland bird species built their nests lower than usual as a consequence of the drought.
"When the wet weather came along, nests and unhatched eggs were hit hard with many being washed away. And any nestlings which did hatch have often been subsequently lost to exposure in the wet, cold conditions."
In Victorian times the avocet came close to extinction in the UK after its feathers became a fashion accessory. Thousands were killed for their plumage to use on hats.