March through Hull to welcome home Yorkshire Regiment soldiers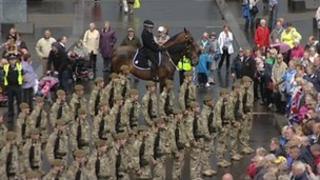 Soldiers from the 1st Battalion the Yorkshire Regiment have marched through Hull to mark their return from serving in Afghanistan.
The parade followed a week of visiting other parts of the region including Beverley, Leeds and Bradford.
Capt Alex Nancola said the public show of support was important for troops.
Earlier this month the government announced the regiment's 2nd Battalion would be lost as part of defence cuts.
The Yorkshire Regiment currently consists of three full-time battalions.
'It means a lot'
The cuts mean the 2nd Battalion, formerly the Green Howards, will be absorbed into the rest of regiment in autumn 2013.
In March, five soldiers from 3 Battalion, the Yorkshire Regiment, were killed when a bomb exploded under their vehicle in Helmand province.
Capt Nancola, from the 1st Battalion, said: "For all the soldiers of the 1st Battalion The Yorkshire Regiment it is great to be back on home soil in Yorkshire.
"To march through towns and cities where the guys have grown up and see the public lining the streets and clapping and cheering, it means a lot.
"It really is something else to physically see the support."