Food firm Greencore denies 'exploiting workers' in Hull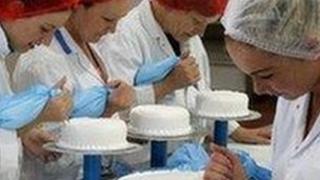 A union has accused a food company of exploiting staff at its Hull site and threatening them with redundancy.
Unite believes Greencore has breached a series of ethical codes including abolishing premium rate overtime and bank holiday working payments.
On Wednesday it filed a complaint with the Ethical Trading Initiative (ETI) against the firm, the union said.
Greencore, which supplies convenience foods to supermarkets, said it "strongly refutes" the claims.
Unite claimed the company had threatened to make "236 people redundant and replace them with agency workers".
Greencore, a signatory of the ETI, had breached employment law by issuing notices to end contracts and re-engage workers on "the new, worse terms and conditions before the end of the legal consultation period", the union said.
It also claimed the firm had broken rules on "freedom of association, working hours, the provision of regular employment and intimidation of the workforce".
A spokesman for Greencore said that it was consulting with staff at its Hull site over "terms of their employment" and was in discussions with Unite to negotiate a "settlement that will achieve a satisfactory outcome for all parties".
It also said the company "strongly refutes any suggestion that it has contravened employment law at any stage during the course of this process."
An ETI spokesperson confirmed that Unite had "raised its concerns" with the organisation and that it would be discussing them with its members.