Parents vow to fight Riverside Special School move plan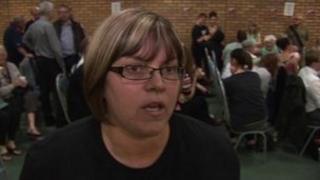 Parents in East Yorkshire have pledged to continue lobbying the council in their campaign to stop a special needs school from moving.
East Riding Council is considering shutting Riverside Special School in Goole and replacing it with better facilities 24 miles away in Hessle.
Campaigners pledged to keep fighting at a public meeting on Monday night.
The council said a consultation would finish on Friday and it would be a long process before a final decision.
Parent Kerry Peniston, whose son attends Riverside, said he had "come on leaps and bounds" since joining the school.
Improve provision
"He is so confident and growing into a lovely young man. It will definitely knock him back if it closes."
She added: "We will campaign and fundraise and get the community behind us all the way."
East Riding Council has said a move to Hessle would help the council improve its special needs provision.
Riverside School currently caters for 89 children from the ages of five to 16, but the council said a move to Hessle would allow an additional nursery, post-16 provision and residential accommodation at the school.
The new site would become available when Bridgeview Special School relocates to new premises in Hull in 2014.