Traders' relieved as Driffield Show goes ahead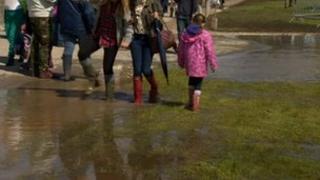 Rural businesses have expressed relief that one of Yorkshire's largest agricultural events has gone ahead.
The one-day Driffield Show in East Yorkshire usually attracts crowds of more than 20,000.
Almost 30 similar events, including the Great Yorkshire Show, have been cancelled in recent months due to the poor weather.
The Hornsea Carnival due to take place on 20, 21 and 22 July is the latest casualty of the weather.
Traders said they have excess stock and face financial losses following the cancellation of other events.
'Extremely concerned'
Elle Locky, from Rydale Country Clothing, said: "We've had at least six shows cancelled in the last two months.
"We buy all our stock at the beginning of the show season in the vision we are going to sell. When they are cancelled we're just left with all our stock.
"It has been very difficult this year."
Ms Locky said it was too early to tell how much the company had lost.
Gary Rogers, from the Yorkshire Dales Ice Cream company, believes he has lost £600,000 from cancelled events in 2012.
He said: "We are extremely concerned about the future. We are going to have to review how many events we do."
The Hornsea Carnival, which also attracts crowds of more than 20,000, has been cancelled due to a waterlogged ground, organisers said.