Immingham port's first public open day marks 100 years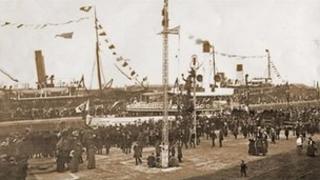 A North East Lincolnshire port has opened to the public for the first time to celebrate its centenary.
Immingham is one of the UK's busiest ports, handling up to 20m tonnes of oil and 10m tonnes of coal a year, owners Associated British Ports (ABP) said.
It has handled about 1.7bn tonnes of cargo throughout its 100-year history, ABP said.
Director John Fitzgerald said the event would give people the chance to "see behind the scenes" of the busy port.
He added: "Due to health and safety and security reasons, we don't allow the public on to the port.
"It's such a milestone that I felt it was just appropriate that the port should be opened up."
'Dock success'
Mr Fitzgerald said it had been "heavily involved in every aspect of maritime trade".
"The port is one of the best kept secrets. It's responsible for huge numbers of jobs and actually created much of the local economy around it. Before the port was built Immingham as a town didn't exist.
"This celebration this year is actually a celebration of port and town and how they've grown together."
The Mayor of Immingham, Neil Castle, said: "Without the success of the docks, needless to say the success of Immingham wouldn't have happened either. So they both go hand in hand and with the two working together, it's been a fantastic 100 years for Immingham."
The one-day open event is part of a year-long programme of activities to mark the port's centenary.
The port, which took six years to build, was formally opened by King George V on 22 July 1912. However, it had been in operation since 15 May 1912 when the first commercial vessel berthed at the dock.