Cleethorpes Carnival comes to end after 36 years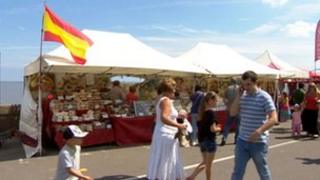 Thousands of people have enjoyed an annual street carnival in North East Lincolnshire for the final time.
Organisers said financing the Cleethorpes Carnival, which has been held for 36 years, had proven difficult after the majority of council funding was withdrawn.
Leonore Pidgeon, who helped set up the event, said she hoped the carnival would return in a different form.
The final parade took place on Saturday through the town.
Ms Pidgeon said: "It grew and grew but sadly at the beginning of 2000 it started to slip away from us. We lost a lot of big business as the big floats stopped coming.
"I understand vulnerable people require money before a carnival so we have to get our priorities right."
Last year organisers behind the parade said it raised about £4,000 for charity.