Hull honours armed forces with veterans' weekend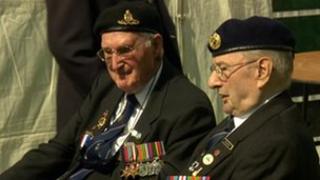 Hull's East Park has hosted the city's annual veterans' weekend to celebrate the role of the armed forces.
The event, which is in its 8th year, featured military parades, displays and battle re-enactments.
Organiser, Honorary Alderman Brian Petch said the weekend was a chance for young people to understand the military experiences of older members of their family.
A parade and a service of remembrance was held on Sunday.
Alderman Petch, who founded the event in 2005, said: "Veterans weekend helps all generations to understand and remember war time Britain and to thank those who have protected, and continue to protect, our country."
Last year, Hull City Council introduced a "military charter" designed to help service personnel integrate back into the community after leaving the armed forces.
The scheme includes free use of the council's leisure centres and priority access to housing and employment services.