Broadband service to help Scunthorpe tenants get online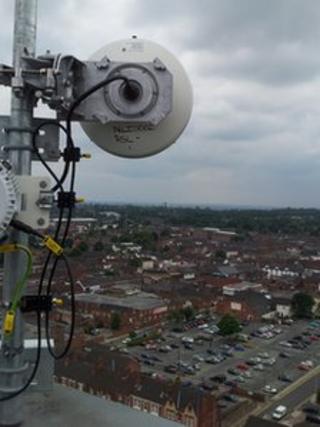 A superfast broadband scheme is due to be rolled out to social housing tenants in North Lincolnshire to encourage them to access the internet.
The service is being launched on Wednesday by the housing association charity, North Lincolnshire Homes, and will only be available in Scunthorpe.
The charity owned 10,000 ex-council properties across the county and 60% of tenants were "not online", it said.
Homeowners and businesses will also be able to access the service.
Tenants would be able to access the service over radiowaves using fourth generation (4G) Long Term Evolution technology, the charity said.
'Affordable rates'
Two broadband transmitters have been installed on the roofs of two tower blocks in the Market Hill estate and West Cliff areas of Scunthorpe.
The charity said the service would be sold to tenants at "affordable and much lower rates" than it would be to homeowners and businesses.
Lisa Fleming, from North Lincolnshire Homes, said: "A lot of our tenants are the older generation and tend to be without internet access.
"We've set up this service to improve their life chances, help them get online and access the benefits of the internet, which some of our tenants are missing out on because of affordability.
"There's also a lot of broadband blackspots in the area."
Money made from the broadband scheme would be "invested back into community housing projects", the charity said.
A broadband service is already available in the town via fibre-optic cable.