Goole flood victims want compensation from Yorkshire Water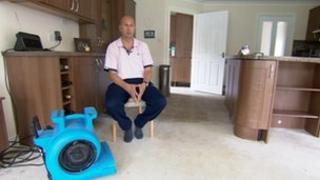 People in an East Yorkshire town affected by flooding have demanded compensation from Yorkshire Water.
The company has admitted equipment at a pumping station in Goole failed during heavy rainfall on 5 July.
Several homes in the town were flooded and residents claim they face increased insurance costs.
Yorkshire Water said it was waiting for the the East Riding of Yorkshire council to conclude an investigation into the incident.
Flooding in July was the second time in a year that up to 50 properties in the town had been flooded.
Jonathan Taylor, one of those affected, said: "I do think we should be entitled to some compensation from Yorkshire Water. If their pumping station had done what it was supposed to do we wouldn't be in this mess again."
East Riding of Yorkshire Labour councillor, Pat O'Neil, who represents South Goole, said: "Given the number of times people have been flooded and that there was a definite failure at Carr Lane in July I think they are fully justified in seeking compensation."
Yorkshire Water said it understood residents concerns but was waiting for the East Riding council to finish its investigation into what happened.
Wendy Kimpton, from the company, said: "Until that piece of work is finished it is inappropriate for us to comment about compensation."