Historic Beverley market place gets £2.5m improvement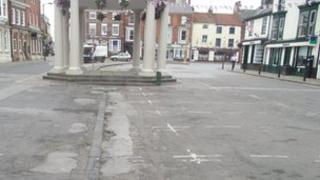 A £2.5m scheme to improve the look of Beverley's historic market place has been announced by the East Riding of Yorkshire Council.
Successive harsh winters have damaged the square's paving stones and cobbled areas, according to the council.
The work will start next January and should be completed by November 2013.
Councillor Stephen Parnaby said: "Saturday Market is the most heavily used pedestrian area in the East Riding."
Mr Parnaby, the leader of the council, said the work would bring "long-term benefits" and boost the local economy.
Patched up tarmac surfaces would be replaced with block paving and York stone pavements would be renewed.
Wider pavements will mean 38 fewer car parking spaces, although 120 will remain. But a council spokesman said: "We are not proposing anything radical."
The number of diasbled parking spaces will also be increased.
The origins of Saturday Market, the second market place in the town, go back to the 12th Century, and it still hosts a popular weekly market.
A pedestrian area will also be created around the eight-columned market cross dating from 1714.
The work would be phased so that the market need not close entirely, and traders and market organisers would be consulted before it starts, said a council spokesperson.
The money for the work will come from savings made in the 2012-3 budget.