Olympic boxer thanks home city of Hull for support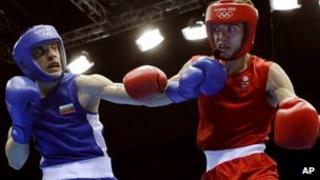 An Olympic medal-winning boxer has thanked his home city of Hull for its support.
Luke Campbell is guaranteed a bronze medal after winning his quarter-final bantamweight bout against Bulgaria's Detelin Dalakliev.
The 24-year-old said on his Twitter page: "I'm so proud to be from Hull and GB. What amazing people we have in our town the support, been unreal."
Campbell will fight in the semi-final on Friday.
Speaking after his 16-15 victory on Sunday, Campbell said: "There's nowt better than this.
"I've only got a small town back home, Hull. But they're shouting, I can hear them from here.
"They're giving me so much support. I just can't thank them enough."
Campbell, who trains at the city's St Pauls Boxing Academy, will fight Japan's Satoshi Shimizu in the last four.