Hull charity recycler faces fly-tipping probe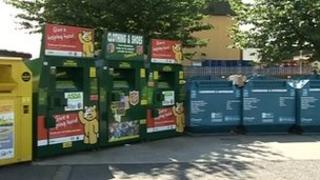 A Hull woman is facing an investigation for fly-tipping after leaving bags of clothes next to a charity recycling bin in a supermarket car park.
Greba Lilly said she left the bags on the floor as the recycle bin was full.
Later, she received a letter from Hull City Council asking her to attend an interview under caution as part of a complaint of fly-tipping against her.
Hull City Council said it could not comment until the investigation was completed.
The letter said that if she failed to attend the interview she could be arrested by police.
'Barmy' situation
Mrs Lilly said the experience had left her "really upset and really angry" and had put her off recycling.
"I think it is very, very, overzealous," she said.
"I think it is just ridiculous at the end of the day to face such a serious outcome for when you set out to do something good."
She claimed that there were no signs at the site warning of prosecution for leaving bags outside of the recycling bin.
Mrs Lilly's MP, Labour's Karl Turner, said he supported the council's zero-tolerance policy on fly-tipping but said the situation was "barmy" and the council should stop the investigation.
"They've got procedures to follow. The truth is there is one mechanism to talk to someone and that is under tape recorded conditions.
"The legislation wasn't designed for Mrs Lilly. This is clearly something whereby she was doing good."
In a statement Hull City Council said: "Hull City Council has received a complaint and an investigation is on-going.
"Until it is complete we are unable to comment."