London 2012: Hull homecoming for Olympic pair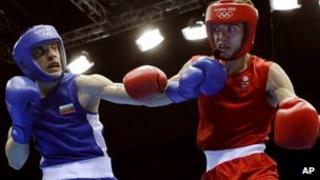 A homecoming celebration will be held in Hull on Tuesday for the city's two Olympians.
Boxer Luke Campbell, 24, is guaranteed a bronze medal after winning his quarter-final bantamweight bout against Bulgaria's Detelin Dalakliev.
Alex Smith, 24, reached the men's hammer final on Sunday.
The pair will appear on the Hull City Hall balcony from 18:30 BST on Tuesday. The city council urged people to turn out to support them.
Campbell and Smith will then attend a dinner hosted by the Lord Mayor of Hull and Admiral of the Humber Danny Brown.
Councillor Stephen Brady, leader of the council, said: "We are very proud of Alex and Luke's performances at the Olympics and want to welcome them back before they get back into their day-to-day lives.
"We hope Alex and Luke and what they have achieved will inspire other people to get involved in sport, so we have even more people from Hull representing the country in the Olympics and Paralympics in the future."
Campbell, who trains at Hull's St Pauls Boxing Academy, will fight in his semi-final on Friday.