Luke Campbell: Hull honours Olympics boxing gold medallist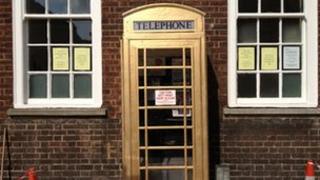 A Hull post box and a telephone kiosk have been painted gold to honour Olympic boxing champion Luke Campbell.
The 24-year-old beat the Republic of Ireland's John Joe Nevin in the bantamweight final on Saturday to win the gold medal.
KC, which runs the city's telephone network, has painted the kiosk nearest to his boxing club gold in his honour.
Royal Mail has painted a post box near the fighter's Hessle Road home, as well as issuing a commemorative stamp.
Campbell said his victory had been "a day I've dreamed of for a long, long time".
He added: "It means everything. My family, my city, everyone has been so supportive.
"A lot of my family and friends have seen how disciplined I've been and they are just so proud of me. I'm happy I could make them proud of me."
Hull's Lord Mayor, Danny Brown, said the city council would meet to discuss the best way to mark Campbell's achievement.
Mr Brown said: "The freedom of the city is something I would like to see for Luke, he certainly deserves it.
"But who knows, name a street, whatever. I think a lot of things will be discussed to see that Luke gets the recognition he deserves."