Sister's 'cold case' hope over brother's murder in 1978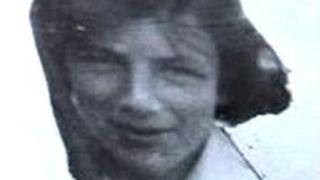 The sister of a North Lincolnshire man whose 1978 murder remains unsolved says police success in other "cold cases" has given her hope.
Walter Taylor, 17, from Scunthorpe, was killed at Christmas in 1978 but his assailant was never brought to justice.
Earlier this month Humberside Police revealed the 1984 murder of Christopher Laverack, nine, was finally solved.
Mr Taylor's sister, Patricia Corbett, said that case meant she could "keep on hoping" his killer would be found.
Mrs Corbett said: "You see them on the news and you think that could be us. We always live in hope."
Walter Taylor had been on a night out just before Christmas when he was battered to death with a lump of wood on the Jubilee Playing Fields, Ashby.
Despite an investigation which saw thousands of statements and interviews being given to police, the murder was never solved.
The case remains one of Humberside Police's longest-running murder investigations.
'Never forgotten about'
Mrs Corbett said in the light of the force solving the Laverack "cold case" due to new forensic evidence, she and her family might eventually achieve "closure" too.
"We just want to know why somebody would hurt him in that way, then we can move on," she said.
Det Ch Insp Steve Hibbitt, from Humberside Police's major incident team, said while not wanting to give "false hope" to the families of murder victims, such cases were "never, ever, forgotten about".
Though he could not reveal the progress being made on specific cases, the force was conducting a "structured review" of all outstanding murders and other serious offences, said Det Ch Insp Hibbitt.