G4S-run Wolds Prison has clear weaknesses, inspectors find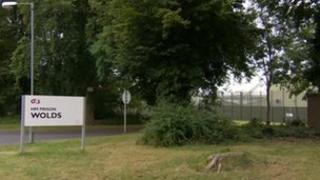 An East Yorkshire jail has improved inmate safety but still has clear weaknesses, inspectors have found.
A report by HM Inspectorate of Prisons said the level of violence had remained low at category C Wolds Prison since its last report in 2010.
But it found levels of illegal drugs in the training prison remained high and that poor behaviour of some inmates "was not always confronted".
G4S said the care and welfare of people in custody was their "top priority".
The jail, which houses about 400 prisoners near Everthorpe, has been run by G4S since it opened in 1992.
The security firm is currently rebidding for the contract and a decision is expected later this year.
Two years ago inspectors found problems with the prison's training provision and also expressed concerns about the availability of drugs, a lack of staff confidence in confronting poor behaviour and weaknesses in the promotion of diversity.
'Create uncertainty'
The follow-up inspection in April highlighted low levels in the use of force by staff and that inmates "experienced a reasonable amount of time" out of their cells.
However, the report stated that the prison had made "little improvement to provide meaningful employment and training opportunities".
Chief Inspector of Prisons Nick Hardwick said: "Wolds finds itself on the cusp of potentially significant change, with competitive tenders for the management of the prison signalling uncertainty about its future.
"The prison has many strengths, but managers must give their full attention to its very clear weaknesses."
In a statement G4S said: "We are encouraged that this report recognises that while there are challenges to overcome at HMP Wolds, the prison also has many strengths.
"Few prisoners report feeling unsafe, the levels of violence are low and incidents of self-harm are lower than in similar establishments.
"We will be examining this report closely to see how we can best take forward its recommendations, where appropriate, and continue to build on the improvements already in progress."