Hull City Council fly-tipping probe 'an over-reaction'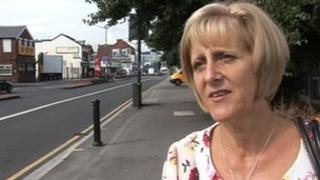 A council which launched a fly-tipping investigation after a woman left some bags next to a recycling bin has been accused of a "huge over-reaction".
Greba Lilly received a letter from Hull City Council asking her to attend a taped interview under caution. She says she now cannot eat or sleep.
Warren Alexander from the Charity Retail Association said fly-tipping laws should not be used to "harass".
The council said it could not comment until its investigation was completed.
Mrs Lilly left three bags of clothes next to a charity recycling bin in a supermarket car park. She said she only left them on the floor as the bin was full.
Mr Alexander, chief executive of the Charity Retail Association, which represents charity shops, acknowledged Mrs Lily's actions were technically fly-tipping, but said the council should have written a letter to warn her, rather than launching an investigation.
'Looks like bullying'
"Fly-tipping laws were not introduced to persecute and harass people like this," he said.
"They were introduced to try and clamp down on industrial-scale dumping of waste by criminals.
"It's a huge over-reaction from the council and to a lot of people this looks like bullying."
Mr Alexander said he hoped the case would not put people off donating clothing to charity shops.
Mrs Lily said: "It was never my intention to fly-tip anything. I can't eat or sleep.
"I know that I set off to do a good thing and it's backfired on me."
The letter she received from the council warned that if she failed to attend the recorded interview she could be arrested.
In a statement, the council said: "Hull City Council has received a complaint and an investigation is ongoing.
"Until it is complete we are unable to comment."