Missing Beverley girl Jessica Blake sparks major search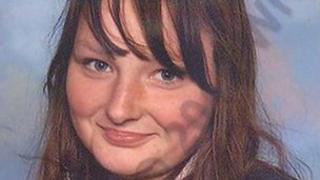 A 14-year-old girl who went missing from home in East Yorkshire on Saturday has sparked a major police search.
Jessica Blake, from Beverley, was reported missing at about 13:50 BST on Saturday, said Humberside Police.
A helicopter and underwater search unit were being used in the search for the teenager, who was believed to be in a distressed state when she left home.
Jessica was last seen in the Lincoln Way area of Beverley riding a pink bicycle and carrying a newspaper bag.
There were increasing concerns for Jessica's safety as her disappearance was out of character, said a police spokesman.
Facebook group
"Specially-trained officers are conducting the search for Jessica with assistance from the Humberside Police helicopter and the underwater search unit," he said.
A bike had been found but officers said they could not confirm it belonged to the teenager.
Jessica was wearing a dark blue/grey coloured zip-up jacket, blue jeans, white trainers and a silver St Christopher's necklace.
She is described as 5ft 2in tall, of medium build and with shoulder-length brown hair.
Jessica has a paper round and was last seen carrying a yellow newspaper bag, though police were unable to confirm whether she was on her round when she went missing.
A Facebook group had been set up to help find Jessica, police said, but officers asked members of the public not to conduct group searches at this stage.