Grimsby Town fan banned from matches after racist abuse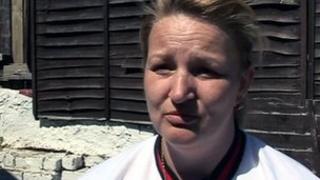 A Grimsby Town fan who admitted racially abusing a footballer during a home game has been banned from attending matches for three years.
Karen Stevens, 40, of Rutland Street, Grimsby, was also ordered to carry out 200 hours of unpaid community work.
She was sentenced at Grimsby Magistrates Court for shouting racial insults at Braintree Town defender Aswad Thomas at Blundell Park in March.
The 22-year-old player has since left Braintree to sign for Grimsby.
Stevens will not be able to attend any Grimsby Town or England games under the order.
'Strong action'
Prosecutor Brendan Woodward said Stevens had shouted racially abusive comments at Mr Thomas and made a middle finger gesture at him.
He said she had then "boasted" about what she had done to fellow fans.
Stevens had previously claimed her comments were misinterpreted.
During sentencing, magistrate Alec Baxter said: "Discrimination has no place at football clubs or in the community."
Grimsby Town FC said it was satisfied with the conclusion of the case and the banning order was "stronger than any action that the club could take".
In a statement, the club said: "This was an unfortunate and isolated incident.
"The club, players, staff and supporters can now look forward to the rest of the season."