Bridlington sea wall plans approved by council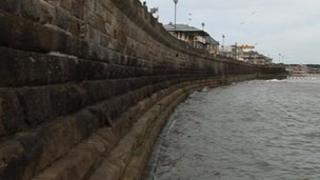 A plan to bring thousands of tonnes of rock from Norway to prevent an East Yorkshire sea wall from collapsing has been approved by the council.
Granite rock armour will be used to support a 165m-long wall on Bridlington's North Promenade.
The £1.3m scheme was approved by the council's planning committee earlier.
However, it has been referred to the secretary of state for final approval as part of the sea wall joins The North Pier, a Grade II listed structure.
If approved, the rock would be shipped from Larvik, Norway, across the North Sea in a barge.
East Riding of Yorkshire Council said the granite would prevent the sea wall from being damaged by coastal erosion.
Mike Ball, a council engineer, said: "We've taken a view that the wall is now in need of reinforcing at its base. Its foundation needs additional support and so we want to do the work at this time.
"The granite lends itself to coastal project work because it has very few cracks and imperfections in it, so there's less chance of rock damage over time."