Cocaine smuggling route through Immingham smashed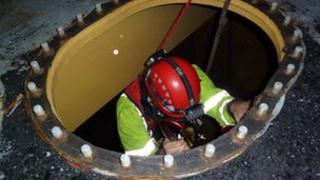 A multi-million pound cocaine smuggling route between South America and the UK has been broken up, border officials have claimed.
Officers believe they have closed down the supply route through Immingham, North East Lincolnshire, after a series of drug seizures.
About £6.5m worth of cocaine has been found on three vessels at Immingham Docks in the last three months.
No arrests have been made but inquiries are continuing, the Border Force said.
The cocaine was found hidden in loads of coal on vessels that had travelled from Puerto Prodeco in Colombia.
A Border Force spokesman said 20kg (45lbs) was found on the ER Borneo on 2 June, 45kg (99lbs) on the CSK Glory on 13 August and 8kg (17.6lbs) on the MV Frontier Island on 27 August.
He said on each occasion the ships were raided by officers from the Border Force Deep Rummage Team.
Sam Bullimore, from Border Force, said: "This was a significant smuggling route and these seizures will put a major dent in the profits of the criminal gang behind this specific plot."
.