Cranswick Country Foods' GMB members' strikes suspended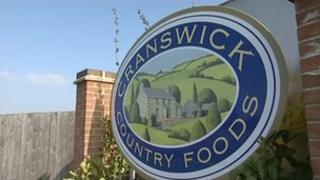 Staff at an East Yorkshire food factory who walked out for the third time in a dispute over new terms and conditions have suspended their strike action.
Members of the GMB Union at Cranswick Country Foods meat processing plant in Preston, near Hull, were due to stage another walkout on Friday.
The firm said it changed its butchery production in June to make it more efficient, which led to the dispute.
The GMB said the company had agreed to further talks.
Workers faced a pay cut of more than 20%, the union said.
'Avoid' strike action
Dave Oglesby, union regional officer, said: "It's a positive move and I think it's going in the right direction. The company's agreed to listen to all the issues we've raised.
"Hopefully further strikes could be avoided."
Union members went out on strike for the first time on 29 August.
The GMB had previously said the new terms and conditions were "far inferior" and that staff had not had a pay rise for eight years.
Cranswick Country Foods owns several food plants and has contracts with Simply Sausages, Weight Watchers, Jamie Oliver and Reggae Reggae.
Managing director Chris Aldersley previously said the UK's meat processing industry was currently experiencing difficulties.
He said the company had been in discussions with staff since May and the majority had now signed up to the new terms and conditions.