Lincolnshire youth offending cases 'drops by 61%'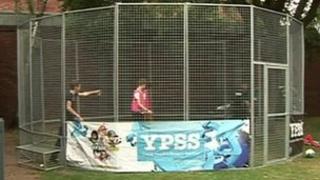 Youth offending in North East Lincolnshire has dropped by 61% over a four-year period, the council has said.
Since 2007, the local authority and Humberside Police have jointly spent more than £15m to deter young people from getting into trouble.
Several measures have been adopted, including mobile youth centres and a mobile climbing wall.
The number of youth offending cases had fallen from 2,061 in 2007 to 793 in 2011, the council said.
The authority said it had been working with the police and voluntary organisations to encourage young people to engage in positive community-related activities.
Among the schemes are two buses used as mobile youth centres, each costing £36,000, a mobile climbing wall, football and dance schools and a mobile cage in which youngsters can play football that costs £8,000.
'Little difference'
Steve Kay, head of young people's support services at North East Lincolnshire Council, said: "We know it's been successful.
"But we need to be constantly reviewing what we've done to make sure we're doing the right things and be responsive to specific issues and needs of our communities."
However, last year, a climbing frame in Cleethorpes costing £92,000 had to be moved after residents claimed it was an "eyesore".
One resident in Grimsby said: "Over the past few years where I live, the council's done a lot of parks up and places for youths to go like skating areas.
"I do feel safe now, in the daytime it's fine, but then after teatime you see them hanging around near banks and shops."
Another Grimsby resident said: "There's been very little difference. There's still damage being done by kids."