New Hull school focuses on developing business skills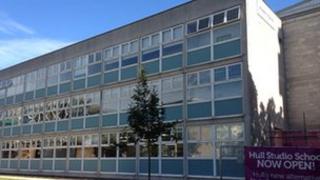 A new "studio school" in Hull is to train students in work-related skills.
The school, supported by Hull College, is the first in the region to offer pupils the chance to combine study with paid employment.
The project is one of 14 similar schools across England supported by the government in an attempt to improve vocational education.
A teachers' union said it was concerned that studio schools would limit students' future opportunities.
As well as studying for GCSEs and vocational qualifications, the students will work with local employers on real-life business projects.
The school will eventually cater for 300 students aged between 14 and 19.
When they reach 16 pupils can undertake two days a week paid employment.
One of the school's new students Daniel Linford said: "It's just an individual opportunity.
"Instead of sitting in the classroom and just getting talked at and actually learning how just to pass that exam, you're learning around the subject."
The Association of Teachers and Lecturers (ATL) said that forcing students to choose specialist subjects at 14 "risks limiting their future opportunities".
Nansi Ellis, head of education policy at the ATL, said: "Studio schools are another nail in the coffin of state education.
"They fit perfectly into Michael Gove's profit-making vision for education, with the companies involved with schools getting paid to find jobs for their students."
The school is one of 14 opening this month, including one studio school in London which is supported by the BBC.