Michael White's mother had 'special bond' with son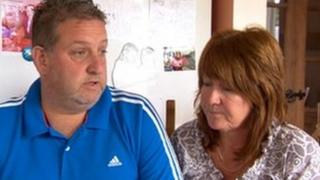 The mother of a North Lincolnshire man who fell to his death from a hotel window on the Spanish island of Ibiza has spoken of their "special bond".
Michael White, who was 27 years old and from Scunthorpe, is believed to have slipped from his fourth-floor room in San Antonio last Tuesday.
His body was discovered the next morning.
His mother, Tina Waring, said: "I had a really special bond with Michael, I was absolutely heartbroken."
"He was an amazing lovely son, trustworthy and honest," she added.
Michael was Mrs Warings's first child and she said she had "spoilt him extra rotten".
Mr White was on a four-day stag party holiday with friends and had only arrived in the resort on the day before his death.
His body is being flown back to the UK on Wednesday and Mrs Waring said it could cost up to £8,000.
Mr White had taken out travel insurance but Michael's mother said the "the small print" of the policy said it may be "void" if the insured had alcohol in his or her system.
"He's coming home that's the main thing isn't it? He's coming home," she added speaking to BBC Look North.
Daz Waring, Michael's step-dad, said the window opening in the apartment was too low "there is nothing to stop anybody. Anybody could drop through."
According to Mr Waring the hotel where the fall occured was 41 years old and not of a "modern design".