Humber Bridge sees traffic numbers rise after toll cut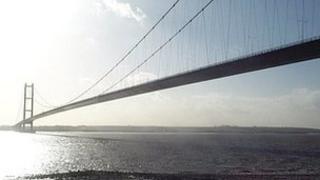 The number of vehicles crossing the Humber Bridge has risen by more than 7% since the toll was halved in April.
Figures released by the Humber Bridge Board show crossings rose by 7.37% in the six months from April 2012, compared to the same period last year.
The fees were cut after the government wrote-off £150m of the bridge's debt of £330m in autumn last year.
Fees were halved to £1.50 for cars, after an agreement between the Humber's councils to take on the remaining debt.
The rise equates to an extra 235,340 vehicles crossing the bridge.
Crossings by motorcyclists saw the biggest rise, with an increase of 12%, after fees for them were abolished.
Local transport minister Norman Baker said: "We never expected traffic to increase by a very large amount in the first six months.
"We always expected it to ramp up over four years.
One driver using the bridge said: "A lot of people were put off purely by the price.
"Once you go over, if you're going shopping in Grimsby you've got all your car-parking charges.
"So, people were reluctant to spend £6 extra, they would rather go local."