Work on delayed York flood defences to start next year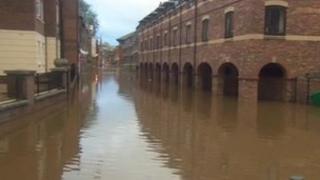 Work on long-delayed flood defences in York will start next year, according to a government minister.
Last week, a number of properties in the the Leeman Road area of the city were flooded after sewers were overwhelmed by heavy rain.
York City Council's leader claimed that having the defences could have reduced the problems.
Floods minister Richard Benyon said delays in the scheme were "very regrettable".
The Labour leader of York City Council, James Alexander, had criticised the delays in starting work on the £3.2m defence system.
Speaking last week, Mr Alexander said: "The latest I heard was the Environment Agency was trying to use it [the money] for other areas outside of York.
"This wrangling means the flood defences are not here and this has been going on for years."
Mr Benyon said that delays in staring the work were down to moving an underground power cable.
Mr Benyon said: "It's quite wrong for the council leader to suggest the Environment Agency is somehow using the money elsewhere.
"The money has been allocated to the Leeman Road project."