Children in Need: Pounding the pavements for Pudsey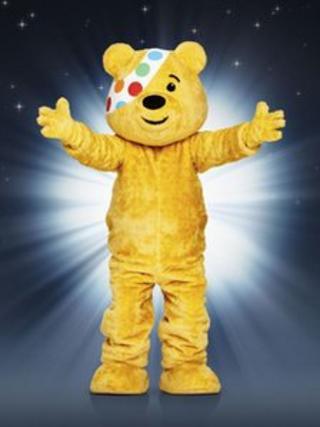 For five days in November, three intrepid members of staff from BBC Radio Humberside will embark on a journey across the region.
James Hoggarth and his right-hand-man and woman, Stuart Deakin and Kate Murphy, will walk from Bridlington to Scunthorpe, all in aid of Children In Need.
Along the way they will be making a series of pitstops, with a special appearance from Pudsey Bear himself.
This is your opportunity to pop down and support the walkers and, if you are feeling generous, put your donations straight into his big yellow paw.
At the end of each day there will be a Pudsey Party, with a live broadcast of Phil White's Afternoon Show on BBC Radio Humberside.
The show starts from 14:00 GMT but get there early or you will miss the arrival of Pudsey just after 15:00 GMT. The day will be rounded off with the arrival of the walkers, before they do it all again the following day.
Please do come along to any of the parties or the pitstops to show your support, and bring any fundraising ideas or donations to assist our Children in Need Appeal.
If you would like to organise something in your community or want more information, email: pavements@bbc.co.uk
Day One: Monday 12 November
11:25 GMT: Pudsey Pit Stop One - Burton Agnes
The Blue Bell Hotel, Main Road, Burton Agnes
13:25 GMT: Pudsey Pit Stop Two - Nafferton
Londis, 32 Middle Street, Nafferton
From 14:00 GMT- Pudsey Party - Hutton Cranswick
WI Hall, Main Street, Hutton Cranswick
Day Two: Tuesday 13 November
10:05 GMT: Pudsey Pit Stop One - Lockington
Outside Lockington C of E Primary School, Front Street, Lockington
11:55 GMT: Pudsey Pit Stop Two- Cherry Burton
Costcutter, 40 Main Street, Cherry Burton
13:25 GMT: Pudsey Pit Stop Three - Walkington
The Post Office, 19 Eastend, Walkington
From 14:00 GMT - Pudsey Party - Cottingham
Cottingham Civic Hall, Market Green
Day Three: Wednesday 14 November
09:45 GMT: Pudsey Pit Stop One - Willerby
Willerby Square Car Park, opposite St Andrews Church, Willerby
10:55 GMT: Pudsey Pit Stop Two - Hessle
The Cake Room, 4 The Square, Hessle
12:30 GMT: Pudsey Pit Stop Three - Barton
Water's Edge Visitors Centre, Barton-Upon-Humber
From 14:00 GMT: Pudsey Party - Goxhill
Goxhill Parish Room and Library, Howe Lane, Goxhill
Day Four: Thursday 15 November
09:45 GMT: Pudsey Pit Stop One - Thornton Curtis
Thornton Hunt Inn, 17 Main Street, Thornton Curtis
10:50 GMT: Pudsey Pit Stop Two - Wootton
School House - Wootton St. Andrews C of E Primary, 6 High Street, Wootton
12:30 GMT: Pudsey Pit Stop Three - Barnetby
Barnetby Village Hall, Silver Street, Barnetby
From 14:00 GMT: Pudsey Party - Brigg
Brigg Market, Brigg
Day Five: Friday 16 November
10:35 GMT: Pudsey Pit Stop One - Hibaldstow
St Hybald's Church Hall, Church Street, Hibaldstow
11:55 GMT: Pudsey Pit Stop Two - Kirton-in-Lindsey
Mount Pleasant Windmill, North Cliff Road, Kirton-in-Lindsey
From 14:00 GMT: Pudsey Party - Scunthorpe
Bath's Hall, Doncaster Road Scunthorpe