Bridlington's Sewerby Hall £2.6m restoration begins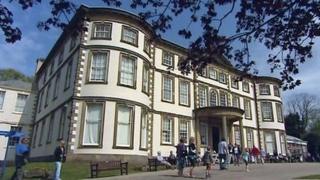 Work to restore an historic stately home in East Yorkshire has begun.
The £2.6m restoration will return the interior of Grade I listed Sewerby Hall in Bridlington to the way it looked in 1900.
East Riding of Yorkshire Council was awarded a £949,900 grant from the Heritage Lottery Fund (HLF) in May, and said the remaining £1.6m would be paid for out of its capital programme.
Sewerby Hall attracts about 150,000 paying visitors each year.
It was originally built between 1714 and 1720 by John Greame and a number of alterations were made in subsequent years.
Parts of the building were restored in 2001 to include Regency and Victorian features.
Leader of the council, Stephen Parnaby, said: "Sewerby Hall and Gardens is an important and popular cultural attraction for both residents and visitors.
"We intend to make Sewerby a fascinating, stimulating and informative day out."
The first phase of the restoration is expected to be completed by summer 2013.