Humberside PCC candidates clash over police funding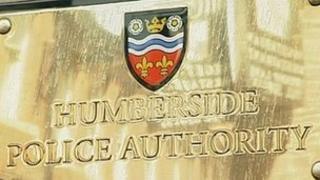 The seven candidates for the Humberside police and crime commissioner (PCC) post have clashed over the best way to deal with funding cuts, during a BBC debate.
The force is facing a £23m reduction to its budget.
A recent report by HM Inspectorate of Constabulary (HMIC) said the force would lose 440 officers by 2015.
Humberside's Chief Constable Tim Hollis said he was confident the cuts could be made without "detriment to performance".
Labour candidate John Prescott said he opposed the cuts in officer numbers.
Salary pledge
He said: "In the five-year plan which was produced by the Humberside Police and the police authority they propose to make cuts which are twice the level than is happening anywhere else in the country.
"You don't need to cut now and so deeply and if you do you will start increasing the crime figures."
Liberal Democrat candidate Simone Butterworth said that as well as reducing her salary by a third, she would use police contingency funds to minimise the impact of cuts.
"It appears to me there are a lot of contingency budgets floating around in there, held back to stem a problem when it arises.
"There is a lot more scrutiny of the police authority budget needed."
Independent candidate Paul Davison said his experience as a former chief superintendent in the Humberside force would help him utilise the full range of police resources.
He said he would use specialist units, such as armed officers and the dog section, to be sent to calls from the public.
He said: "In the East Riding of Yorkshire I was able to investigate 40% more crimes, which weren't investigated normally, with the same number of officers.
"I would expect to see no reduction in the quality of the service to public, I would expect us to deliver with existing resources."
Police time
Neil Eyre, who is standing as an independent, said that the level of the proposed cuts was not yet clear, but he would implement the budget plan drawn up by the chief constable.
"Having talked to the chief constable and the deputies, they have actually put together a plan that will not affect the operation of front-line policing of the Humberside police force. This is something they have made clear to me.
"If that's the plan they have written up based on the figures they are estimating at the moment, I would be a fool not to stick with that."
Independent candidate Walter Sweeney said he would "improve the management of the police and make them more responsive to public need".
He also said that he would work with other agencies to reduce the number of crimes, particularly among the young.
"The nuisance crimes," he said.
"The anti-social behaviour, which takes up so much police time.
"If we could reduce those we could have more time available to the police to investigate more serious crime, more to collect evidence and more time to secure convictions."
Crime 'rising'
Conservative candidate Matthew Grove said that a cut in the budget did not necessarily mean a reduction in police officers on patrol.
He said that Humberside Police had already taken 10% from the budget and still seen a reduction in crime.
He said he would cut the amount of paperwork to get more officers on duty.
"You cannot link the number of officers necessarily with the security and safety of the public," he said.
"It's not about global numbers, about how many officers you have employed; it's about how you deploy them."
Godfrey Bloom, UKIP candidate, said he did not believe the statistics that crime was falling and added he thought crime was actually rising.
"How can we maintain the level of policing that we want? Very, very difficult. I am an ex-soldier and I have seen budgets cut and cut and cut and we've had to make do and make do and make do," said Mr Bloom.
He said that more support was needed from central government and the courts to prevent reoffending
He said: "They are going to have to take a very much stronger sentencing policy if my policemen, fewer policemen, are not chasing the same villains round the revolving door."